This is an older version of the documentation. View the latest version here.
This page covers how to install, setup, and upgrade the Flipside Creator Tools in order to import your own characters and sets into Flipside Studio.
Note: The Flipside Creator Tools require a specific version of Unity in order to work properly in Flipside Studio. Please install Unity 2019.2.11f1 from one of these download links:
Please see upgrading your characters and sets to Unity 2019 for instructions on upgrading assets made in Unity 2017.
Installation
Download and install the correct version of Unity that matches the version of the Flipside Creator Tools above.
Note: If you're not on Windows, at the Choose Components selection of the installation make sure you choose Windows Build Support.
Download the latest version of the Flipside Creator Tools.
Open Unity and create a new 3D project. The same project can be used to create all of your custom characters and sets.
Import the Flipside Creator Tools package from step 2 by choosing Assets > Import Package > Custom Package in the Unity application menu.
After installing the Unity package, navigate to Flipside Creator Tools > Open Creator Tools to open the Creator Tools wizard. You can dock this window anywhere you like in the editor.
Navigate to Window > Package Manager and install either the Oculus Desktop or OpenVR (Desktop) package, depending on your VR headset. This will let you press Play and preview/test your characters and sets in VR.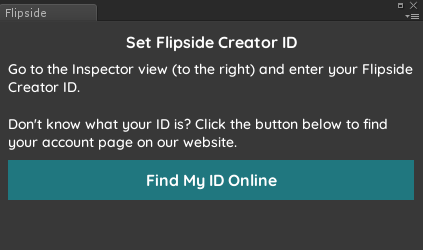 Note: To obtain a Flipside Creator ID, install and launch Flipside Studio through Oculus Home or SteamVR and enter your email address to register for an account.
Upgrading
First, always make sure you're still on the correct version of Unity. If not, it's always a good idea to make a backup of your project before upgrading Unity, in case you need to go back.
To upgrade to a new version of the Flipside Creator Tools, download the latest version and import it into your Unity project via Assets > Import Package > Custom Package in the Unity application menu.
Setting your Flipside Creator ID
Click the Continue button in the Set Flipside Creator ID wizard. This will open the FlipsideSettings object in Unity's Inspector pane.
Click the Find My ID Online button to be taken to your Flipside Creator profile, where you will see your Flipside Creator ID in your profile info. Note: You may need to log in to see your profile info.
Click on your Flipside Creator ID on your profile page to copy it to your clipboard, then paste it into the Flipside Creator ID field in the Inspector pane.
You should now be ready to begin using the Flipside Creator Tools.
Examples
You can find example scenes and documentation to help you get started under the Assets/FlipsideCreatorTools/Examples and Assets/FlipsideCreatorTools/Documentation folders in Unity once you've imported the package. Double click the example scenes to open them and see how things are set up.
---
Next: Concepts